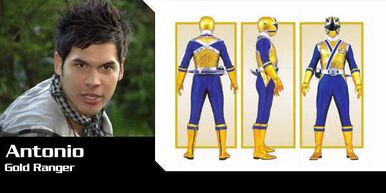 Antonio is the Gold Ranger in Power Rangers Samurai .
Background
Edit
Jayden's childhood friend Antonio is a traveling fisherman and a self-made Samurai. He was given the Octozord by Jayden when they were children in promise that he would become a Samurai as well. Antonio occasionally adds Spanish words in conversation, which is usually referred to as Spanglish. Antonio has great symbol power that he was able to make his own morpher. He was given the Claw Zord to fix but it could not go into full power until Mia, Kevin , Mike and Jayden helped with their Symbol Power to make it work and transform into its own Megazord. Like the others, Antonio can also call upon Mega Mode. He uses his tech wiz abilities and texting to try to make the Black Box work.
As A Ranger
Edit
Full Name: Antonio
Ranger Designation: Gold Ranger
Weapons: Barracuda Blade
Gear: Samurai Morpher
Zord: Octozord, Lobster Zord
Antonio, in Power Rangers: Samurai, is the second Ranger in the Samurai team who is Hispanic. The first is obviously Mike , the Green Samurai Ranger.
Antonio is a tech wiz.
Antonio means "Anthony" in spanish.
He is the only Ranger, while during and prepping for Megazord battles, when formed with Megamode Power, his helmet does not change form. It stays the same as his original form, while the five remaining Rangers ( Jayden , Mike , Emily , Mia , and Kevin ) change their forms, when a Megazord battle is active. At least when they change their regular Ranger forms to their Megamode forms, their helmets do change but not Antonio's.
Rumored Original Name
Edit
Before Samurai even began airing, Antonio was initially going to be named "Wesley", but the name was dropped.